NavSim PPU Overview
NavSim Portable Pilot Units (PPUs) are used by marine pilots all around the world for precise berthing manoeuvres, river and sea piloting, poor visibility navigation, FPSO and SBM berthing and other related manoeuvres in confined marine environment. All NavSim PPUs feature a pilot optimised version of NavSim's popular navigation software, Argus. Currently, NavSim offer two types of PPUs: Argus PPU and OneBoxPro+ PPU
NavSim entry-level PPU comes with a hybrid Toughbook™ along with the NavSim RG4 ROTG (Rate of Turn Generator), and a high quality RTK-capable dual-beacon GNSS receiver. All NavSim PPU systems are provided with a light-weight water-repellent carrying case for optimum portability when boarding vessels.
The NavSim OneBoxPro+ is an all-in-one unit designed specifically for the most demanding piloting. It offers a fully independent and complete set of navigational information, including centimetre level position accuracy, speed over ground at centimetre per second, rate of turn at a tenth of a degree per minute and heading at 0.017 degrees

| | |
| --- | --- |
| Scalability | Intuitive software |
| The PPUs offered by NavSim are fully scalable. Depending on your needs regarding positioning accuracy and the degree of required independence from the vessel's signals NavSim offers the most suitable PPU solution: from a basic dual-beacon GNSS with a pilot plug to an RTK capable multi-GNSS with an independent heading, built-in AIS receiver and Rate of Turn generator. | Argus by NavSim Technology is the latest revision of NavSim's award-winning software for professional pilots. By incorporating over ten years of meticulous software development with the customers' feedback we were able to develop something truly special. |
Technical expertise and training
NavSim is currently the only company offering 24/7/365 around-the-clock technical support in the PPU industry providing a variety of convenient ways to communicate with us (including on-site and dedicated phone). We also offer advanced manoeuvring courses in the Ship Handling Centre where pilots can use our PPU in near-life conditions training on vessel models.

Testimonials
By exploring and understanding the details of the piloting activities and requirements, we are able to incorporate input into our best-in-class products and services. But don't just take our word for it, read what active marine pilots worldwide have to say about working with NavSim PPU
Equipping (Great Lakes Pilotage Authority) GLPA pilots with NavSim's new integrated PPUs will help ensure that the Great Lakes-Seaway remains one of the world's safest and most efficient commercial waterways. Robert Lemire, CEO of the Great Lakes Pilotage Authority
As a harbor pilot in the Pacific Northwest, I was looking for a reliable and flexible navigational software. After examining the major brands in use I chose NavCruiser Pro. The capability to select the data fields that I wanted to see and to set them up in any particular display screen that I could choose set NavCruiser apart from the competition. Whether it was a tabbed screen for transit mode or final approach to an anchorage, NavCruiser Pro was easily customized to display what I needed to see. I found great value in the playback mode to review a job with a trainee pilot and for self-evaluation and improvement. Capt. Ed Marmol, Pacific Northwest Harbor Pilot.
Your software gets better by the day. It is so fantastic and so very user friendly. I can easily say that out of all the navigation software that I have tested over the years, yours is by far the easiest to learn. Capt. Andrew St. Germain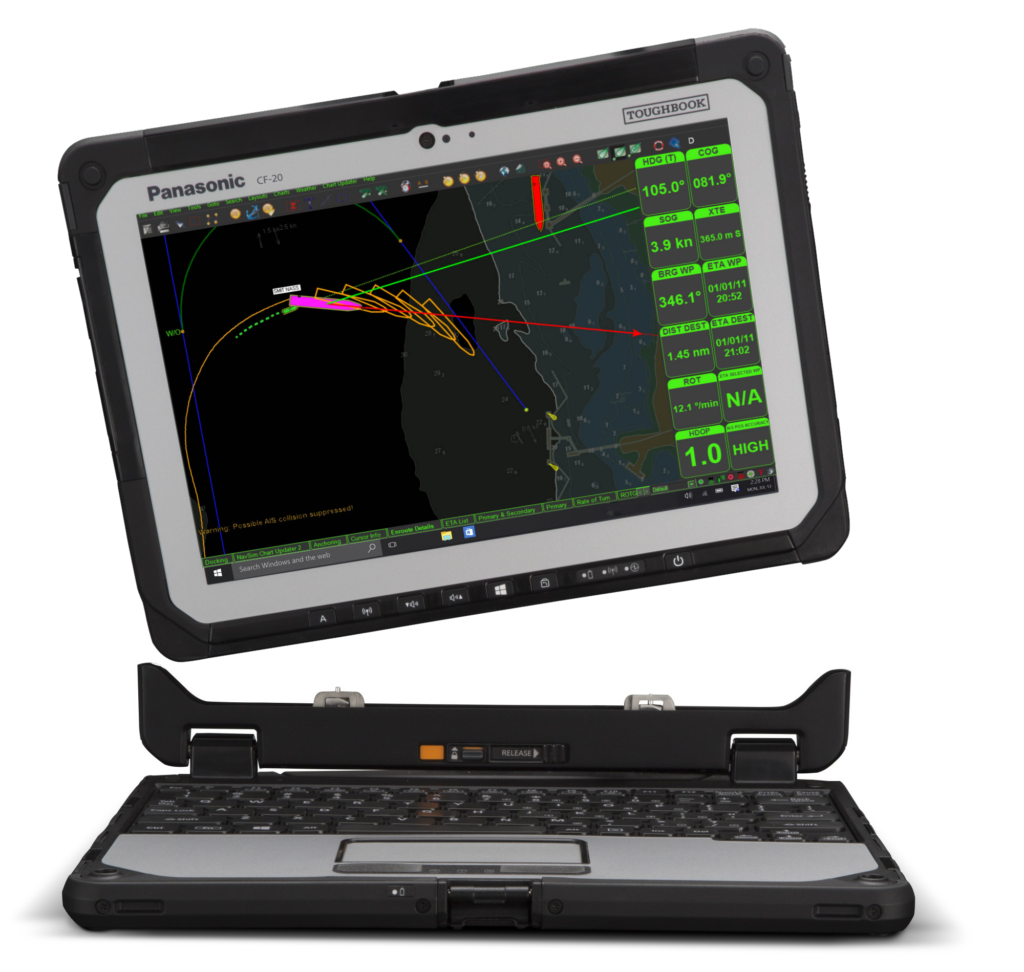 | | |
| --- | --- |
| Chart Updater | |
| The Chart Updater module delivers hassle-free installation of new and updates existing charts using the internet (no CDs or pen drives are required!). This process can be set to be completely automatic – not one click is needed. All official ENC providers, including Primar (s-63), NOAA (S-57), UKHO (AVCS) and CHS update their charts quite frequently and the user now has instant access to this information. | |
Docking Module
Docking allows the user to create a dock by simply drawing it as a line right on the chart. Usually this will correspond to an actual dock, but can also be used for any straight obstacle that needs to be avoided. Both on the chart in in the Docking layout tab you can monitor distance lines indicating how much clearance each corner of your ship has. In the Docking layout, you will see, among others, arrows representing the motion of your vessel and another display of distances to the nearest docks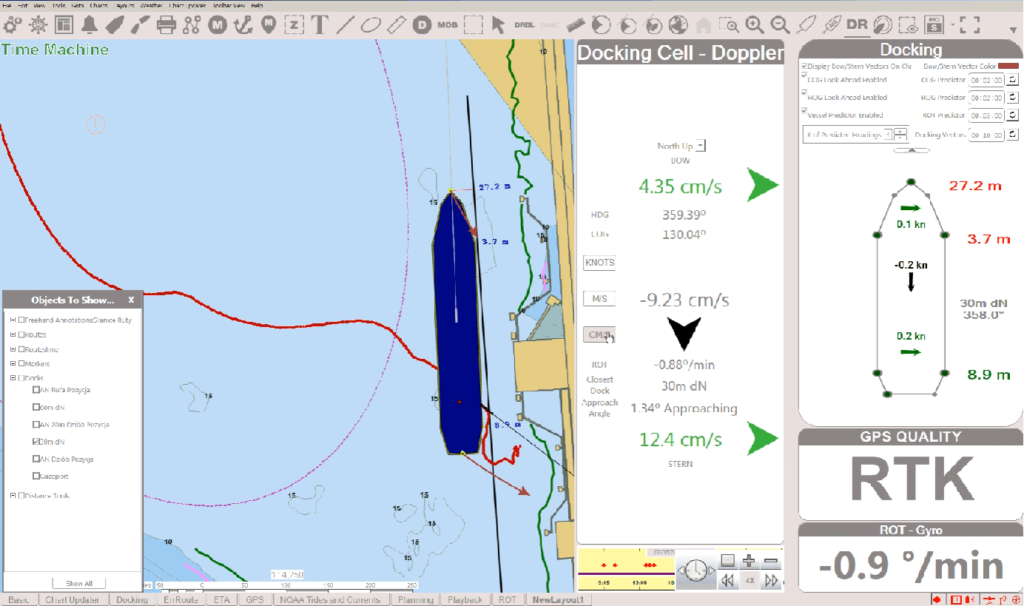 [:en]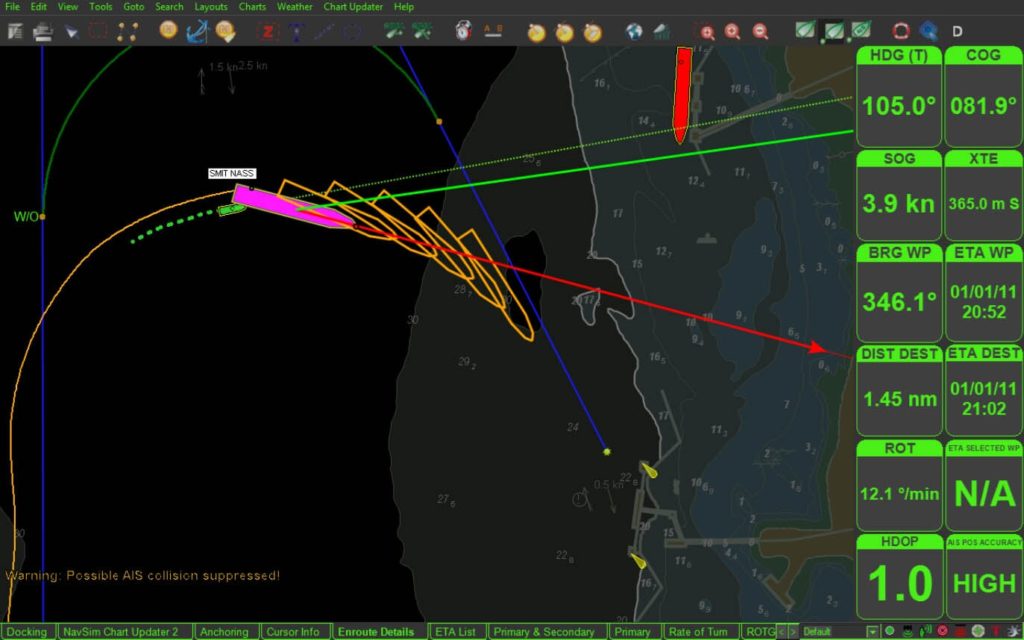 Meeting point
Another handy feature popular with Pilots on confined inland waterways is Meeting Place. A Meeting Place (or Meeting Point) shows the point where you would intersect the route of a selected vessel. It can be activated by hotkey. Simply dragging the meeting point will tell you the new speed needed to reach that meeting point.
[:]
Night mode
During the hours of darkness, it is desirable to hide the "Title Bar" at the top of the screen and the "Task Bar" at the bottom of the screen. This reduces the light being emitted by the screen and increases the area in which the program window will utilize. The use of S-57 vector charts, as opposed to the use of raster charts, will assist in reducing light being emitted by the screen as well.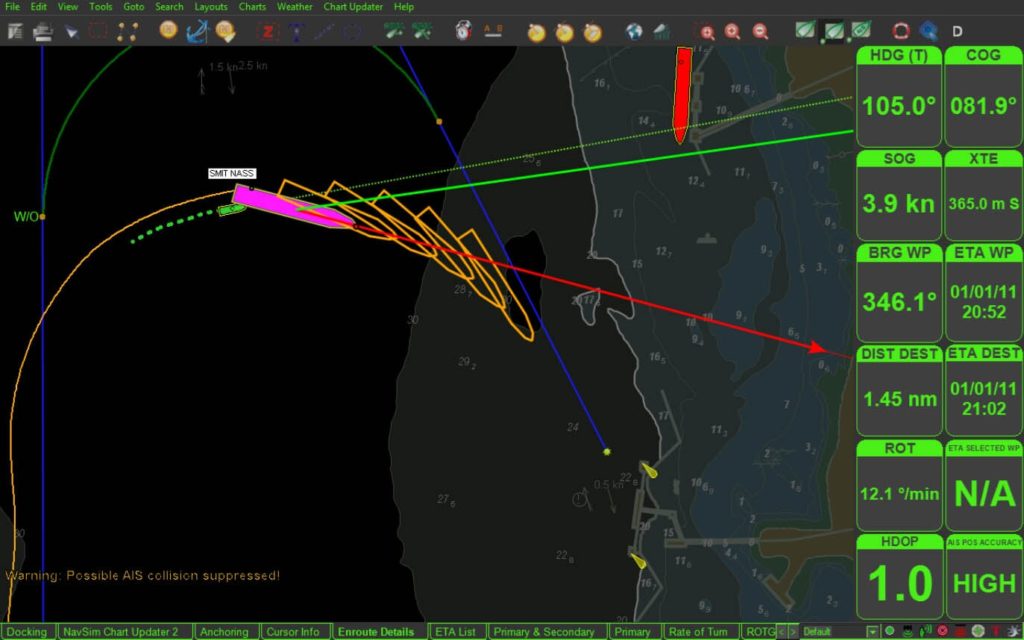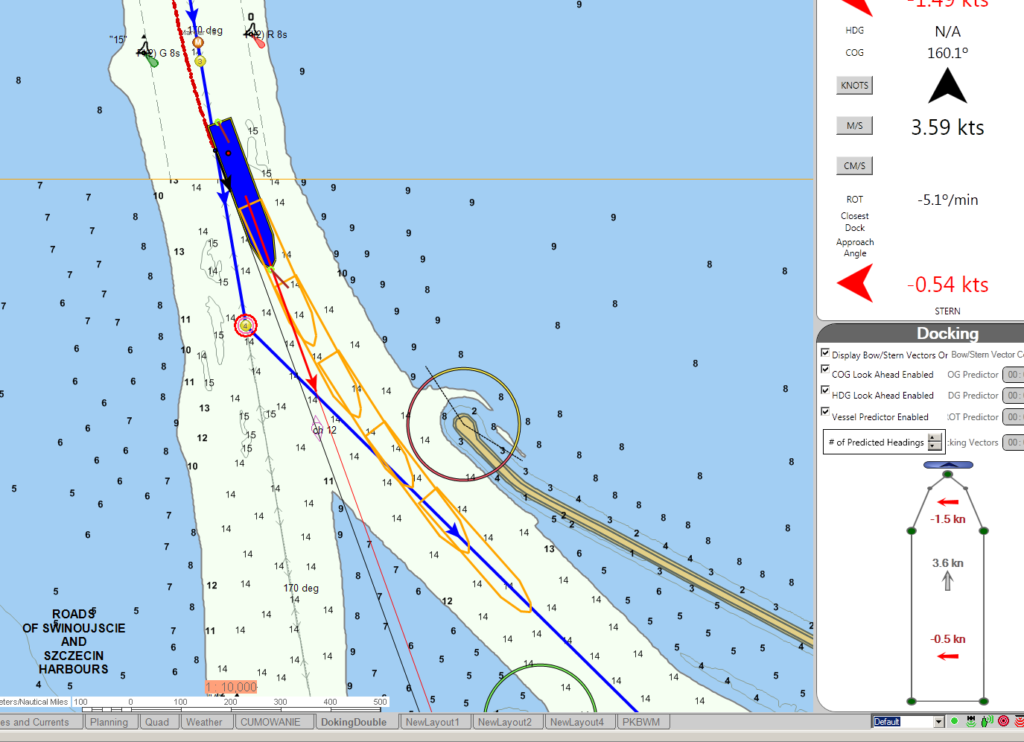 Predictors
Over the years, NavSim developed a set of advanced predictors which show how the vessel is going to behave in the upcoming seconds and minutes. The pilot can enable/disable a set of predictors including: bow and stern vectors/arrows on charts, COG look ahead, HDG look ahead, vessel outlines representing rate of turn. On top of that, with a click of a button, the pilot can adjust both number of displayed predictors and the prediction interval.